Printer-friendly version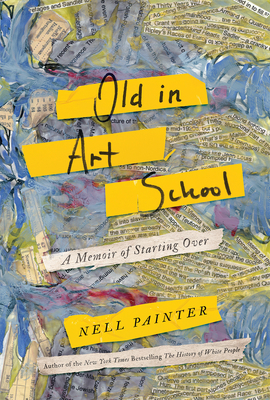 Old in Art School
by Nell Painter
"If you're black, your race is supposed to be the thing that defines you," writes Nell Painter in Old in Art School: A Memoir of Starting Over. "If you're a woman, being a woman is supposed to be the thing that defines you. And if you're a black woman, you go through life as a black woman. And I was used to that. But here I was, an old black woman, with the stress on old."
At the age of 64, Painter, an author and history professor at Princeton with a Ph.D. from Harvard, decided to retire from teaching and become a student. Retirement, however, did not mean the end for her; it meant the beginning.
She was in good health, she had the financial support of her husband, and she had the confidence to take a risk. So she made a bold decision to start over, in art school, as the oldest student among classmates whose average age was 18 to 20. She was older than her teachers. She was, in fact, the oldest among everyone at the school.
Granted, she was already a highly focused, organized woman, and she had, as she describes it, a small talent for painting—and a name to match—but what she had mostly was a passion to develop her talents, and a willingness to be vulnerable.
"How old are you?" her classmates asked incredulously on the first day of class at the Rhode Island School of Design. And so began her journey.
Nell Painter is now 75 and has published this memoir describing the challenges, doubts, joys and efforts of starting over in old age. She wanted to be a Serious Artist, with a body of work shown in galleries, but soon learned the "art world is racist as hell" and that fine black art is hard to find and even harder to market.
As you read her book, you will discover the names and work of many black artists you may never have heard of, as I did. And, if you love art and the creative process of expressing your passion, and if you are of a certain age, you will be inspired by her grit and work ethic.
It took several years until Painter earned a Masters of Fine Arts and developed her voice, style, colors and theme. The book has many illustrations showing the evolution of her work. During this time she had to care for her two older parents, both in their 90s, whose deaths mark a loss and burden she bore simultaneously with her blooming old, black, female artist identity.
I was impressed by how Painter's former sanctimonious academic self transformed into one of humility in starting over. She had to become a different person, and sharing her story has inspired me, as an older reader, to ask myself: What do I want to start after retirement?
---
Published in Cascadia Weekly. Read the full article, here.
Review by Cindi