Printer-friendly version
Sat, 03/16/2019 - 10:30am
Event address:
Bellingham
,
WA
98225-7015
*Join us for this FREE Lit Live! event -- meet the author and get your book signed!*
Join us in the readings gallery as we welcome Christine Smith! She will share her brand new children's book and offer crafts and activities for the family.
David B. didn't want to go home to Comfy Cove. He wanted to stay up late, just like the big boats that would pass by his anchorage in the middle of the night. Instead of going home, he decided to keep on exploring. As day turned to night, David B marveled at how the water sparkled in the moonlight. Soon the moon began to set, and his wonder turned into caution, then fear as he remembered an old tale of boat-eating rocks that would come to life on moonless nights. In the dark, he hears something breathing, but it's not the scary rocks. It's something else…
Christine Smith grew up in the Pacific NW. She is most at home in the space where the forests meet the ocean. Her time as a naturalist and chef on the David B has helped her to bring a sense of excitement and discovery to people both on and off the boat. She is also the author of the award-winning book, More Faster Backwards: Rebuilding the David B.
Can't make it to an event? No problem! You can pre-pay and receive a signed, personalized copy of the book you want. We ship!
Books: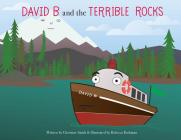 $19.95
ISBN: 9780989001014
Availability: On Our Shelves Now
Published: Old Heavy Duty Publishing - November 19th, 2018
---

$19.95
ISBN: 9780615540894
Availability: Usually Ships in 1-5 Days
Published: Old Heavy Duty Publishing - November 30th, 2011
---