Printer-friendly version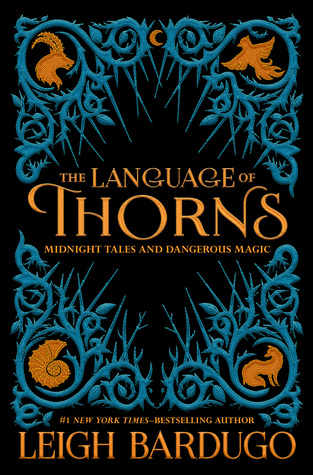 The Language of Thorns by Leigh Bardugo
One of my very favorite YA fantasy writers (Shadow and Bone trilogy, Six of Crows duology) has written a new book full of six short stories, gorgeous illustrations on the interior pages, and a different view of some well-known old favorites. A lover of magic and fairytales, I knew this book was for me as soon as I turned the first page. Bardugo wears a different set of spectacles to retell some old tales, and to give us the dark and twisted endings that they always deserved. Think Hansel and Gretyl, but what if the witch was not actually evil? What about the Little Mermaid and Ursula? Two sides exist to every story, as does some background intel. And sweet little Clara and the Nutcracker? Oh my, that is a much creepier tale in the hands of this author. This would be a fabulous gift for any child age 11 and up, as well as any adult who loves fantasy, magic, and a different viewpoint.

Promise Me, Dad by Joe Biden
Listening to this new memoir in Joe Biden's voice is definitely the way to go, though be wary - I cried as I walked my dog as I listened to the last hour. Biden's story covers the last few years of his time as Vice-President of the United States, as well as the impact of his son Beau's death on not only Joe, but his family, his position, and the vast world that knew, admired, and loved Beau Biden. This is a family that has been remarkably touched by tragedy: the death of Joe's wife and daughter in a tragic car accident, the long hospitalization of his young sons, and the long battle with brain cancer that ultimately took Beau's life. I was impressed with the writing in this book; Biden is a beautiful, lyrical writer, particularly when he writes of his family, his dedication to those in need, and his connection with others marked by tragedy. I was less invested in some of the minutia surrounding his work with Ukraine and Iraq, though I did learn more about the impact of our foreign diplomacy on world relationships. I found this book to be inspiring, knowledgeable, and heart-breaking.

The Tethered Mage by Melissa Caruso
Debut author, brand new YA fantasy series, badass female characters, creative plot line - yep, I was hooked. In the Raverran Empire, children who are 'mage-marked' (ie. they can do magic, insane magic like out of control fire, melting peoples' bones, building mirrors to trap intruders) are taken by the government at a young age and 'tethered.' Think falconry, as these young magicians, now known as Falcons, are imprisoned by a magical bracelet and a couple words that when spoken by their Falconer, release their devastating magic. Problems are inherent in this system, with underlying themes of enslavement, devotion to war, and political machinations to gain the upper hand with the empires that surround Raverra. Enter two incredibly powerful female characters: Amalia, daughter of a powerful council member and the Falcon she ensnares, Zaira, who has been able to avoid capture for all of her seventeen years and definitely does not want to be anyone's Falcon. This is an exciting first installment to a new series that has great potential. I do feel like it would have benefitted from further editing (definitely too long), and some stronger character development for some of the males. However, I did appreciate the way in which Caruso dealt with the cultural mores of Raverra, noting that many of their leaders are women, that Falcons and Falconers could be in a same sex marriage, that skin colors were different. All these ideas were just part of Raverra society, acceptable and nothing that really raised eyebrows; it's just the way their society works. That is powerful.

Reviews reposted with permission from Laurie's Lit Picks.
...
Like what you're reading? Want more? Let's be friends! Stay connected with all the good stuff happening at Village Books & Paper Dreams on Facebook, Twitter, and Instagram