Printer-friendly version
"Polar exploration is at once the cleanest and most isolated way of having a bad time which has been devised," wrote Apsley Cherry-Garrard of his time with the 1910 Scott expedition to the South Pole. And that's how most of us still imagine polar expeditions: stolid men with ice riming their beards drawing sledges and risking death for scientific knowledge. But polar science has changed drastically over the past century, as Chris Linder shows us with
Science on Ice
.
An oceanographer and award-winning photographer, Linder chronicles four polar expeditions in this richly illustrated volume: to a teeming colony of Adélie penguins, through the icy waters of the Bering Sea, beneath the pack ice of the Arctic Ocean, and over the lake-studded surface of the Greenland Ice Sheet. Each trip finds Linder teamed up with a prominent journalist, and together they reveal how science actually gets done at the poles.
Chris Linder communicates science in the field from the Congo to Siberia using photography and multimedia. After earning a master's degree from the Massachusetts Institute of Technology and the Woods Hole Oceanographic Institution Joint Program in oceanography, he spent three years in Spain working as a US Navy meteorology officer and cultivating his photography skills. He then returned to Woods Hole, where his passions for science and photography came together. Since 2002, he has photographed two dozen science expeditions, including 14 to the polar regions. His images have appeared in museums, books, and magazines, including
Geo
,
Nature's Best
,
Outdoor Photographer
, and
Wired
. His exhibit titled "Exploring the Arctic Seafloor" debuted at the Field Museum and traveled to the Carnegie Museum of Natural History and the MIT Museum. He is a member of the International League of Conservation Photographers. He lives in Seattle with his wife and two children.
Books: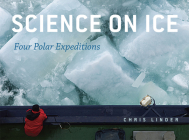 Email or call for price
ISBN: 9780226482477
Availability: Special Order
Published: University of Chicago Press - December 15th, 2011
---